Interview with
GERDY OSKAM
by Nanda Alstede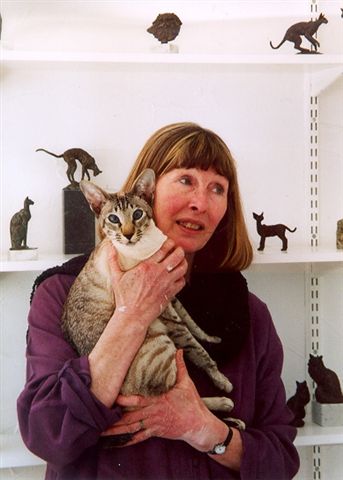 If there would have been something like a Gerdy Oskam-fanclub, I absolutely would have become a member! Gerdy is my favourite 'cat'- artist and I was thrilled having been in a position to interview her. For years one of her works of art, called 'Explorer of the World', decorates our room – a showpiece which we cherish!
She lives in a cosy, narrow little street in Alphen aan den Rijn and when I enter her house I find myself in a Land of Cockaigne! Everywhere beautiful figurines which I would like to have for myself!
I only 'know' Gerdy from telephone conversations, but I know everything about Franz Joseph, a helpless, motherless moggy-kitten of about 5 weeks, which she found in Germany – where she owes a farmhouse – and took home with her. He grew up with her and became a big red tom-cat. The first thing she tells me is that Franz Joseph died… only 1 ½ years old. I promise her not to write too much about it, as her grief over the death of 'Big Red', as she used to call him, is still very fresh and it hurts too much. Luckily there still is Zilla, a very affectionate and present seal tabby point Siamese with beautiful blue eyes, which regularly wants to take part in the conversation; and …. within a few weeks, Zilla will get a friend – a Siamese male kitten will make things complete again.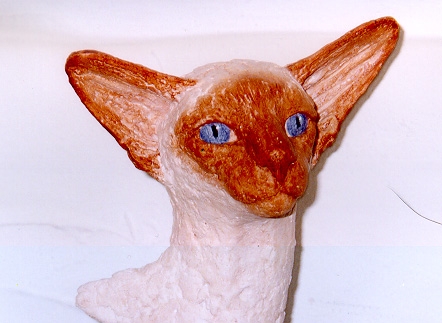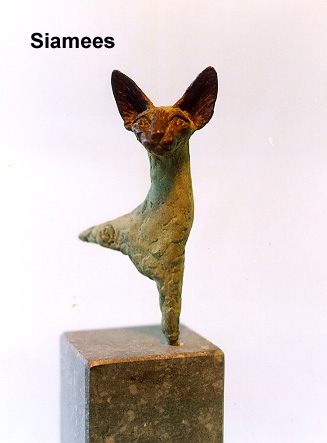 Gerdy, claiming that she is a disaster as a housewife, serves us a cup of coffee and we take a seat on her couch in her nice, light room which also is her exposition and working room. I cannot keep my eyes off of all those beautiful figurines; even the ones which are not finished yet, I would like to take home!
Gerdy Oskam (58) was born in Nieuwerkerk a/d IJssel; her Zodiac sign is Aries. She is a sculptress and studied art of modelling and sculpture techniques at the Vrije Academie, The Hague. About three times a year she exposes her bronze sculptures and her wall panels at home and abroad. Besides that she also works on assignment.
She is divorced and has two children, a son and a daughter. She always managed to live of her art, because, as she says 'I'm not capable of doing anything else!'. She did teaching for decades, which took place in her own studios. Since one year she doesn't own these studios anymore and she quitted teaching at the same time, which she thinks to be extremely pleasant. Teaching is a nice but very intensive and tiring occupation and she likes it being able to work in her garden or simply sit in it and enjoy the sun.
Now her studio is in her house and she wants to organize a permanent exposition and sales room. In October she will open up for the public on Sundays and up till then many things have to be done as during the summer she lives in her house in Germany. Not that she doesn't do anything over there! On the contrary: in this house, situated in the area of the Moselle, she gives workshops sculpture techniques and modelling to groups of about eight people. Beginning and advanced pupils can take part. A workshop lasts five days in during this period one can learn how to make a personal sculpture out of stone, modelling wax or chamotte clay. You may choose your own stone and you can work in your own tempo. You stay at the 250 years old farmhouse which is situated amidst woods, fields and hills. When the weather is beautiful the work takes place outside and when it rains it is done in a large studio, formerly a stable. It all sounds great to me! I will keep this in mind…. Imagine that some day I would be able to make my own cat sculpture! May be I have undiscovered talents….
The 'making of' bronze sculptures is a very complicated process and Gerdy explains to me how this takes place:
There are various ways to produce a bronze sculpture – she describes one of them, called 'cire-perdue', which – literally translated – means 'casting with a lost mould' – this is a well-known technical term. Cire-perdue can always only be used once. If one wants to make more pieces, one has to use another technology..
The cire-perdue-procedure takes place as follows (the words, indicating the successive steps, are underlined):
1) Modelling of the statue in modelling wax
2) Placing of a cast tap and ventilation channels on the wax mould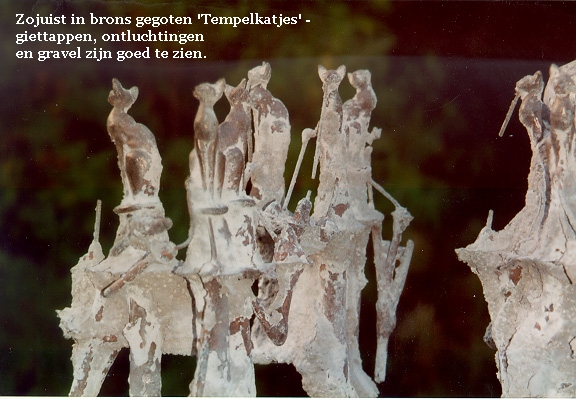 3) Followed by so called 'forming-in', e.g. making a thick pulp from gypsum, gravel and water.
4) The wax model is splashed with this pulp in order to fill up all the hollow parts as well. This forming of a contra-mould has to be done quickly because the pulp will harden soon.
5) Next comes the so called 'burning off'. The wax melts in the furnace and is caught in a big reservoir. The moulding pulp is slightly being baked at 750° .
6) Then 'cooling down' takes place. The baked, hollow moulds are now placed, at a temperature of 100°, in big hobs with so called Brussels earth (a sandy composition) with the ventilation channels up. This composition supports the mould in order to avoid the danger of breaking as much as possible while moulding in the bronze.
7) Further cooling down. This goes very fast.
8) The moulding material is chopped away
9) The bronze now is 'free' and a new piece of art is born!
10) The cast tap and ventilation channels are removed with a saw
11) The moulding skin is removed with jets of water
12) Then follows 'cicelating' which is taking away moulding-faults. For this several kinds of tools are used, such as hammers, chisels, files, grinding tools and finally emery-paper.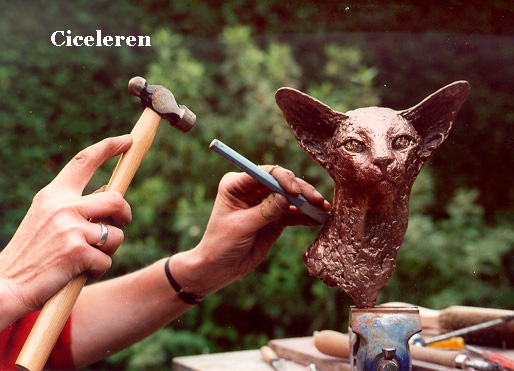 13)Now the skin of the bronze is provided with colour by means of acids. This is a kind of quickened oxidation process with which the underlying metal is protected from influences from the outside. The arisen dust-layer is removed and the work can eventually be waxed.
14)The piece of art is placed: a hole is bored and a screw-thread turned, after which the work is placed on a socle.
Ready!!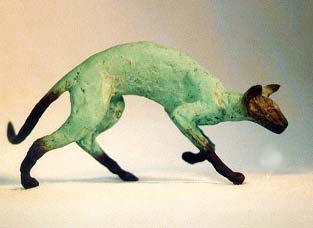 Apart from making bronze sculptures, Gerdy also paints and specializes in matter-panels. These are panels in relief and she uses all kinds of materials which she finds in nature. Various kinds of these panels decorate her walls and they look very special – they trigger your own fantasy. She works most of the time in series, because, as she says, she cannot put enough of her feelings in one single painting. The panels in her studio consist of series of four.
At the moment you can see her work at Galerie Alexandra, Zierikzee and every Sunday at her studio, Alphen a/d Rijn, The Netherlands.
Time flies with such a fascinating interlocutress like Gerdy…. We quickly admire her beautiful garden and once again I gape in admiration at the wonderful sculptures.
Who is Gerdy Oskam? An inspired artist with an amiable personality, or, as she puts it in words herself: 'A happy human being who loves her work'.
Update 2005:
Gerdy and her partner moved to Germany where she gives her workshops, has accommodation for Bed & Breakfast and has a farmhouse for rent. Her address is:
Ringstrasse 14 - 56290 Lieg - Germany

0049 2672 913466
© Nanda Alstede - 2002